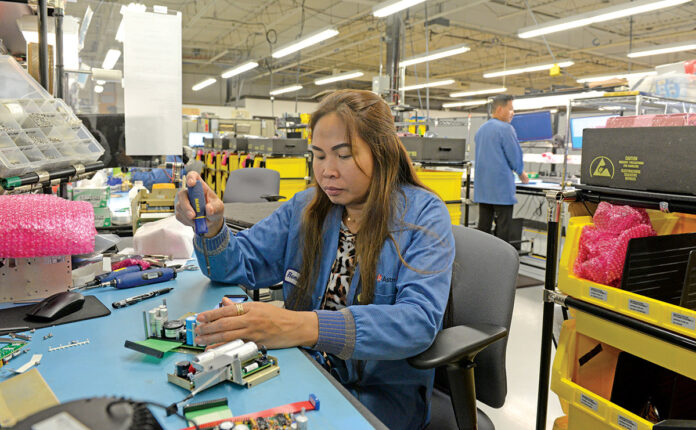 PBN 2023 Manufacturing Awards
LEAN MANAGEMENT: AstroNova Inc.
---
AS THE WORLD grows more interconnected, global manufacturers are increasingly relying on a constant stream of data. That's where West Warwick-based manufacturer AstroNova Inc. comes in.
For more than five decades, AstroNova has been instrumental in the evolution of data visualization technology, from its origins in paper printouts to modern-day computer systems. AstroNova's penchant for innovation makes it a model for companies looking to streamline their operations and embrace the unpredictable future of manufacturing.
The last few years have been particularly challenging but also fruitful, according to Josh Dumont, AstroNova's manufacturing director.
"The [COVID-19] pandemic forced us to create new tools to mitigate risk and provide visibility into shortages that may be coming down the line," he said.

Linda Linphanit, the firm's new director of quality, has also been invaluable in helping AstroNova weather recent worldwide supply chain disruptions. Since joining last year, Linphanit has directed several of the company's recent lean projects, according to Thomas Carll, the company's vice president and general manager.
While Carll is optimistic that "a lot of those supply chain issues are behind us," flexibility is still key.
"You have to do what you're good at, and anything else, it's OK to outsource," he said. "That's kind of the nature of lean."
Originally named AstroMed, AstroNova was founded in 1969 and started out as a small manufacturer of medical recorder products, such as chart paper for EKG printouts. AstroMed's early contributions to the industry included the first-ever thermal array recorder – essentially a device that records and relays temperature-related data.
As the world swiftly digitized in the late 20th century, AstroMed changed with it. The company began building digital versions of some products, expanding into new fields and branching off internationally. Today, the firm fabricates specialized printers, product labels and data display systems for planes, missiles, cars and other products. One theme that connects these varied threads, Carll said, is data visualization.
"The core of the company is presenting information in some format," he said. "It could be a label, it could be a printout from a flight deck printer, or it could be on a display."
This diversification led the firm to change its name to AstroNova in 2016. It also began focusing on two distinct product groups, Carll said. The first is called AstroNova Test and Measurement: that's a throwback to the original recorders, which are now digital acquisition devices.
"For example, anytime a rocket is launched, data is being transmitted down to a ground station, where it's displayed on our product," Carll said.
The second group is AstroNova Product Identification, the company's commercial label printers arm. Its customers include craft breweries, grocery stores, tire manufacturers and other businesses that churn through product labels with relative frequency. "They print labels when they need them, instead of going to a third party and getting labels printed for them," Carll said.
Prior to the recent turmoil over the past few years, AstroNova's leadership had been seeking ways to streamline its mammoth manufacturing operation. For example, when deciding how to incorporate a newly acquired line of flight deck printers in 2017, AstroNova decided to experiment with a "mini factory." The idea, Carll said, was to compress complex factory floor operations into one small, simple "U-shaped production cycle."
"With single-piece flow, we make the whole printer line in one U-shaped configuration," he said. "You start with parts on one side, and 10 feet away, 20 feet away, you end up with a completed printer in a box. Traditionally, you had to walk 200 yards across the factory floor to get parts." This in-house production has saved costs for AstroNova, Carll said. Part of lean, he said, is deciding whether you should insource or outsource. The firm has also trimmed its costs by streamlining contract audits. Whereas before, AstroNova's quality assurance department reviewed every aerospace contract, now only new contracts or those with major changes are reviewed.
"It sounds like a very simple thing," Carll said. "But we literally save one to two days for a full-time quality assurance person who was seeing the same orders over and over again."