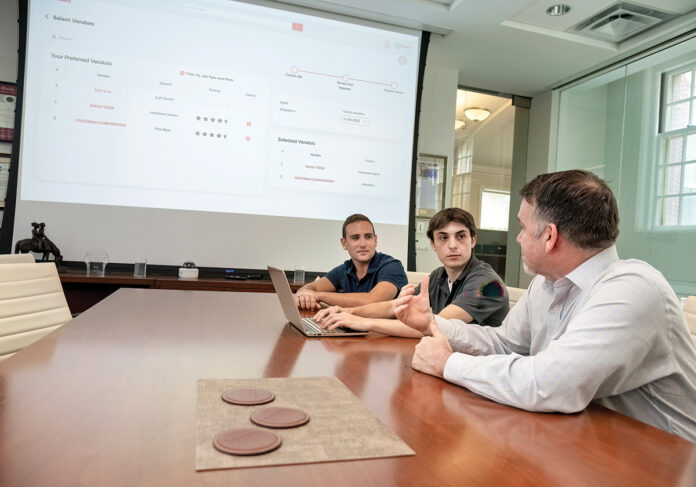 PBN Innovative Companies 2023
Technology: Attender Inc.
---

FOR A STARTUP looking to disrupt the maritime services industry, what could be a better area to operate in than the Ocean State?
"As a Rhode Islander, I'm proud that this technology firm felt the state was fertile ground to build a global company," said Jason E. Kelly, one of Attender Inc.'s co-founders and an executive at Moran Shipping Agencies Inc. – a sister company and lead investor of Attender.
Attender is an artificial intelligence-backed procurement management platform for maritime port services. In layman's terms, Attender, Kelly said, is "Angie's List for complex maritime services."
When ships dock at ports, they often need some kind of servicing, such as repairs or routine inspections. Shipping companies are always looking to streamline these pit stops, known as "port calls," to get their vessels back on the water more quickly than competitors.
Choosing the right vendors can also be tricky, especially when ships aren't familiar with the port they're pulling into. "Often this needs to be done at a port that's halfway around the world, where you don't have any local connections," Kelly said.
Enter Attender. Kelly and the firm's CEO, David Dolan, saw an industry stuck in the past – and ripe for innovation.
In essence, the AI-powered platform plays matchmaker between ships and servicers. Buyers who use Attender for free get connected directly with vendors, who pay for easy access to potential clients. With every port call, the AI behind Attender gets better at its job. The platform synergizes the benefits of machine learning with human knowledge and experience, Kelly said.
"We knew that a new generation of maritime leaders were looking for digital tools. They didn't want to call a robot," Kelly said. "They wanted to type on their phone and have an AI engine find the best vendors and manage the [request for proposals] process."
Moving forward, Kelly says the firm is finalizing an offshore wind module, with a trade financing piece to follow.
"We're helping to mitigate digital disruption in logistics and, at the same time, seize new opportunities," he said.