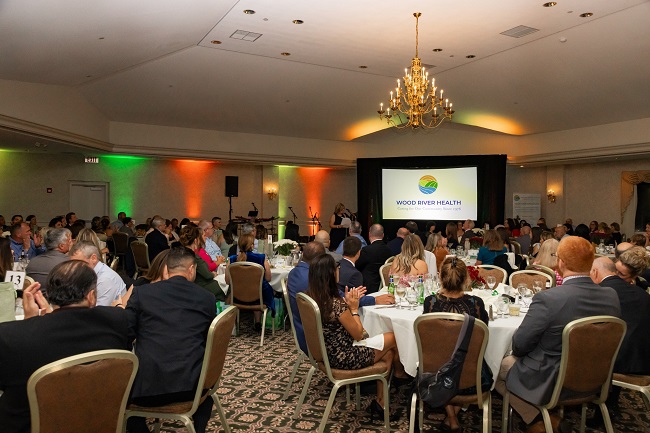 HOPKINTON – Wood River Health has reported that its third annual Harvest for Health Gala raised more than $97,000 for the federally qualified health center.
The event celebrated the center's 47th anniversary and was held on Sept. 22 at the Venice Restaurant in Westerly, with live music performed by Take it to the Bridge. Proceeds from the gala support the center's health care programs, which aim to improve the community's quality of life, according to a news release.
Presenters at the event included Regan Pennypacker, Wood River Health's board chair; Alison Croke, CEO and president of Wood River Health; and Peter Marino, CEO and president of Neighborhood Health Plan of Rhode Island. Each of the presenters spoke to Wood River's efforts to increase patients' access to health care programs and support services.
Sponsorship funding raised more than $56,000 for the health center. Neighborhood Health served as the event's presenting sponsor and Professional Planning Group was an Over the Harvest Moon level sponsor. Other sponsorships came from community partners, local businesses and board members. The event's Earth's Bounty sponsors included CliftonLarsonAllen, East Side Clinical Laboratory, Genoa Healthcare, Integrated Healthcare Partners, Office Concepts, RI Media Group, UnitedHealthcare, Vision 3 Architects and Westerly Hospital – Yale New Haven Health.
During the event, Croke announced that Wood River Health has partnered with Block Island Health Services – which is considered a rural health center because of its distance from the mainland – to increase oral health care access for New Shoreham residents through a program that will open in January 2024. Currently, dental care for residents who are Medicaid beneficiaries or who are under- or uninsured has only been available through traveling off the island.
A longtime patient of Wood River Health identified as Don P. delivered a statement through a prerecorded video about how the center's dental services helped him. PMC Media Group produced the video and helped sponsor the event, according to the release.
Dr. Michael McCarten, a Wood River Health provider, served as the event's auctioneer and helped raise more than $16,000 in live auction and Raise the Paddle proceeds. Funds from Raise the Paddle will support Wood River Health's new dental program with Block Island.
Guests also participated in a Wine Surprise Raffle that raised more than $2,000, in which they received a bottle of wine and gift card up to $100 in exchange for a $47 donation. Gift cards were donated by local businesses, and wine was donated by Hopkinton Liquor Depot, Wakefield Liquors and The Wine Store.
Patceez Home Garden Center donated more than 20 mums that decorated the tables and added to the harvest theme of the event. LDM Designs created the event program and signage, according to the release.
The event was organized by members of the Harvest for Health Gala Committee and was chaired by board Vice Chair Daniel Fitzgerald. Committee members included Croke, Fitzgerald, Committee Chair Sue Brough, former board member Sarah Channing, Director of Development & Communications Laura Courtemanche; Jennifer Madden, marketing and communications specialist; Peggy Marcotte, executive assistant to the CEO; Kathleen Marra; Dayna Mendolia, marketing and events coordinator; and board member Kate Porter.
Katie Castellani is a PBN staff writer. You may contact her at Castellani@PBN.com.