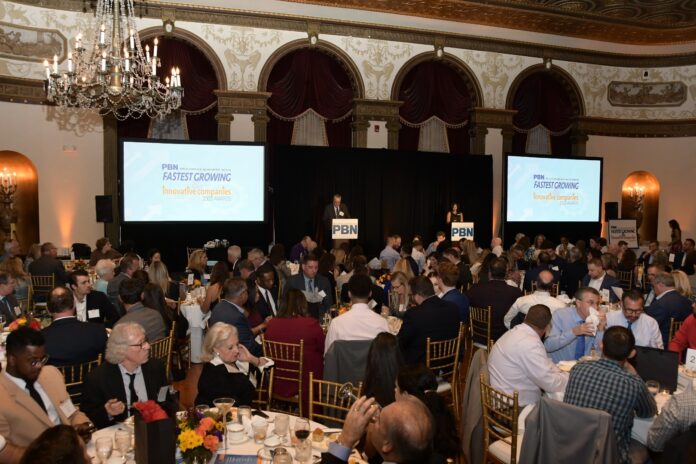 PROVIDENCE – A consulting firm, a renewable energy company, a bed and bath linens manufacturer and a hospitality company were recognized Wednesday as the top earners in Providence Business News 2023 Fastest Growing & Innovative Companies awards program.
About 255 people attended Wednesday's ceremony held at the Graduate Providence. The 2023 program honored 27 total companies and organizations based on their revenue growth in 2022 compared to 2020, and for their innovative products and initiatives to potentially help their industries for the future.
Cranston-based consulting firm Systems Change Strategies LLC had the highest growth in the $250,000 to $5 million category at 287.2%. Renewable energy developer E2SOL LLC saw its revenue in 2022 increase by 1,288.9% compared to 2020 in the $5 million to $25 million category. Fall River-based manufacturer John Matouk & Co.'s had the top revenue growth in the $25 million to $75 million category at 51.9%. Lafrance Hospitality in Westport had the best revenue growth in the $75 million and above category at 111.9%.
Each company and organization will be profiled in a special section that will be published Sept. 29 as part of PBN's Sept. 29-Oct. 12 print and digital editions.
The 2023 Fastest Growing Companies, listed in order of revenue growth percentage in groups based on 2022 revenue, are:
$250,000 to $5 million
Systems Change Strategies LLC
Allegra Marketing – Print – Mail
Keane's Wood Fired Catering
Integrated Media Group
Luminous Creative Agency
$5 million to $25 million
E2SOL LLC
Feast & Fettle Inc.
Infused Innovations
Spyglass MTG LLC
Gurnet Consulting LLC
$25 million to $75 million
John Matouk & Co.
Stanley Tree Service
Kahn, Litwin, Renza & Co. Ltd.
Wright-Pierce
Centreville Bank
$75 million and above
Lafrance Hospitality
Blount Fine Foods Corp.
SEACORP LLC
Altus Dental Insurance Co.
Navigant Credit Union
The 2023 Innovation winners, listed alphabetically by category, are:
Architecture, Construction & Engineering: Skanska USA Inc.
Biotechnology and Life Sciences: Moss Pure
Government: R.I. Turnpike and Bridge Authority
Health & Wellness: Kent Hospital at Home
Nonprofit/Social Services: AccessPoint RI
Professional Services: Greenwich Bay Brokers
Technology: Attender Inc.
CBIZ & MHM, Cox Business and Gallo|Thomas Insurance were the partner sponsors for the 2023 PBN Fastest Growing & Innovative Companies Awards program. R1 Indoor Karting Inc. was a partner and gift sponsor.
James Bessette is the PBN special projects editor, and also covers the nonprofit and education sectors. You may reach him at Bessette@PBN.com. You may also follow him on Twitter at @James_Bessette.