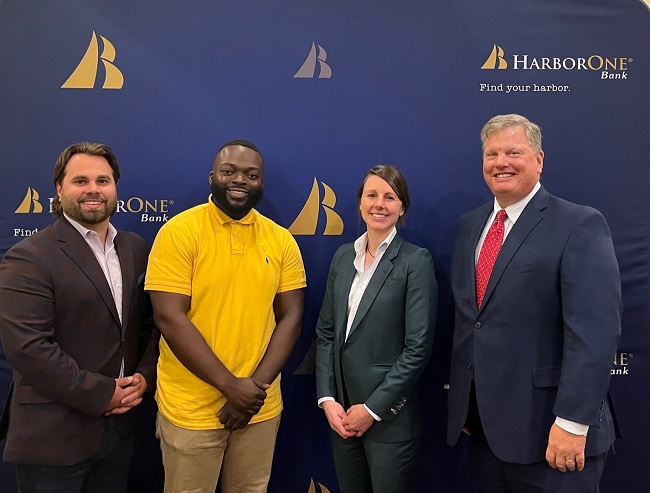 PROVIDENCE – HarborOne Bank recently awarded $12,500 to two small-business entrepreneurs as part of its 8th Annual Small Business Pitch Contest at its banking center in Mansfield, Mass.
Eight entrepreneurs were selected from a pool of 35 applicants to present their business plan to four judges in a competition for prize money to help develop and grow their business.
The first-place $10,000 prize went to Woburn, Mass.-based Bee Balm Co., a plastic-free, mission-driven lip balm company owned by Samantha Putošová. The balms are handmade and come in 100% compostable packaging. Putošová plans to use the $10,000 to purchase a machine that will increase capacity tenfold and lower costs, all while donating 5% of annual profits to pro-pollinator charities.
The second-place $2,500 award went to Stack House based in South Kingstown. Stack House is a quick-service brunch, fried chicken and Southern cuisine restaurant with a mission to provide Southern-inspired homestyle cuisine and comfort food throughout the New England region and beyond through the creation of sustainable careers for individuals from disadvantaged communities to reduce racial disparity and inequity.
"We had a number of extraordinary small business owners participate in our 8th Annual Pitch Contest," Scott Sanborn, executive vice president and chief lending officer at HarborOne Bank, said in a statement. "It is an honor to recognize and have the ability to support these small business owners who are making positive contributions to our communities and local economy."
The four-person panel of judges included: Manassah Bradley, senior business adivser, Massachusetts Small Business Development Center; Karim Hill, president, BDC Community Capital Corp.; Ingrid Rodriguez, vice president and business services officer, HarborOne Bank; and Nick Miller, founder and president of Clarity Advantage.
The remaining six finalists included Brockton Beer Co.; Faneeks Coney Island; JM Stylist; KrayPlates; OMZE Authentic Tequila, Mezcal and Spirits Inc.; and Terra Fresca Farm.