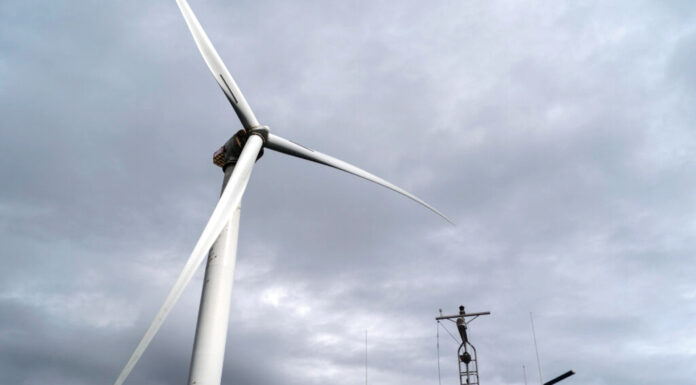 PROVIDENCE – Gov. Daniel J. McKee's administration on Monday released details on the development of Rhode Island's strategic plan to develop the state's offshore wind supply chain.
The plan, called Rhode Island's "Strategic Plan for Offshore Wind Jobs and Investment," was prepared by the Providence-based consulting firm, OSWind Partners, and the R.I. Commerce Corp. According to state leaders, the goal of the strategic plan is to create opportunities for Rhode Island companies and workers to contribute to offshore wind projects along the East Coast.
"Rhode Island has proudly served at the forefront of this exciting, job-creating sector for more than a decade, and we have the tools, infrastructure, and workforce we need to build on this momentum in the future," said Gov. Daniel J. McKee. "This strategic plan provides a path to amplify the deep Rhode Island offshore wind resources and coordinate groups across the state to provide industry solutions throughout the wind farm lifecycle." 
The analysis conducted for the strategic plan shows that Rhode Island has the physical assets and workforce capabilities to support the life cycle of a wind farm  – from permitting to decommissioning, according to the plan's executive summary.  
The strategic plan outlined six recommendations:
Cluster development:

Aimed to amplify the state's industry strengths and create connections between locally based businesses, specifically targeting companies specializing in permitting and ocean science, logistics, operations and maintenance and precision manufacturing.

This will be measured by the increase in the number of contracts between local companies and offshore wind developers, OEMS and Tier 1 companies. 

Education and opportunity awareness:

Take proactive steps to engage local companies that have the capability and capacity to contribute to the offshore wind supply chain and connect them with opportunities up and down the east coast. This will be measured by the completion of sessions to target audiences and coordination of meetings between stakeholder and developers or contractors.

Coordination:

Ensure that all developers, manufacturers and top-tier offshore wind companies are aware of and can easily access Rhode Island's assets, resources and talent as they embark on new projects and look for best in class solutions and partnerships. This will be measured by meetings with all major developers and contractors and consistency of communication to stakeholders.

Opportunity awareness system:

Invest in a new, web-based portal through which contractors can easily find, evaluate and engage with Rhode Island companies to support project workflows at all phases of a wind farm life cycle. The success of this will be measured through the creation and use of a system as well as the increase in business inquiries between contractors and the supply chain.

Regional leadership:

Work with neighboring states to share resources and best practices to create efficiency and cost savings as new projects are approved and constructed. The success of this will be measured by a collaboration between Rhode Island and at least one other state as defined by a developer or contractor.

Communications:

Clearly communicate Rhode Island's offshore wind strengths both internally and externally to build the state's ecosystem and respond to the changing demands of the industry. The success of this will be measured by the increase in inquiries from companies regarding OSW in Rhode Island and the frequency of the state's mentions in articles and publications.
The plan was developed following a review of both the U.S. and global industries as well as an audit into the state's existing offshore wind supply chain, physical assets and workforce development programs.
The release of the plan's recommendations also comes as Rhode Island Energy prepares to issue a request for proposals to solicit approximately 1,200 megawatts of new offshore wind power this month. Proposals will be due early next year and be selected in summer 2024. The effort is expected to be combined with other offshore wind development efforts in Massachusetts and Connecticut.
"Developing clean energy sources is of paramount importance, not only for environmental reasons, but for economic and social reasons as we work towards a more sustainable and prosperous future," said R.I. Commerce Secretary Elizabeth M. Tanner. "We look forward to continuing to work with our colleagues and partners across the offshore wind industry as we implement this strategic plan in a way that creates jobs and opportunities for Rhode Islanders."  
In July Rhode Island Energy rejected an agreement for a joint proposal from Orsted A/S and Eversource Energy LLC, known as Revolution Wind 2, to bring 600 to 1,000 megawatts of offshore wind to Rhode Island. This was the only proposal Rhode Island Energy had received in response to a procurement last year, but the utility company cited affordable concerns as its reason for rejecting
If Rhode Island Energy chooses a bid from its newest request for proposals it would be the third offshore wind farm in Rhode Island, which was the first state to house an offshore wind farm in the U.S. with the construction for the Block Island Wind Farm in 2016.
Researchers and leaders have agreed that offshore wind will benefit communities through job development and education and training opportunities. Offshore wind development is also believed to help Rhode Island advance on its commitment to 100% renewable energy by 2033. 
Leaders have identified that they will continue to collaborate with stakeholders, educational institutions, government agencies and industry partners to help provide products and services needed to meet industry requirements. R.I. Commerce Corp. is also planning regular meetings with industry stakeholders with the aim to finalize a timeline for implementation in the coming months.