Home
Tags
Trailblaze Marketing Inc.
Tag: Trailblaze Marketing Inc.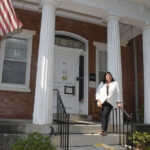 Heather Wall still gets emotional when she drives past the empty storefront on Frenchtown Road in North Kingstown. The darkened space in Hunt River Commons...
Members of the small-business community have been buoyed by Lt. Gov. Sabina Matos' initial actions in her role as Gov. Daniel J. McKee's administration...